Customer Relationship Managment (Intranet - CRM)
The Full Partner Web System provides a suite of web-based applications to address the internal needs of your organization. Known as an "Intranet", this is a private area on the Internet you can use to share information, collaborate on activities and manage your customers, prospects and sales opportunties.
You Can Manage Your:

Users & Contacts
Prospects
Companies
Appointments Calendar
Projects
Tasks
Issues
Timeslips
Features of our Customer Relationship Management facility:
Intranet-Customer Relationship Management (CRM)

Users Contact Infomation

Prospects and Lead Sources

Companies Database

Manage your Sales Opportunities

Online Calendar for managing your Appointments and Tasks

Documents Management System in multiple formats

Project Management System

Task Manager to follow-up and keep notes on communications

Issue Manager - for handling customer support trouble tickets and solutoin tracking

Timeslips for hourly billing projects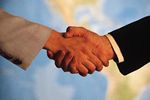 With Full Partner you can quickly deploy a centralized information solution for your organization. Access it any time of day from anywhere in the world using our fully integrated SaaS- Software as a Service system.