Okay, you've done Search Engine Optimization (SEO) work on your website and or you've started to run some Search Engine Marketing (SEM) Pay Per Click (PPC) advertising campaigns and you finally have some visitor traffic coming to your website. The most frequent question I get asked as a Business Coach and Internet Marketing Consultant at this stage is: How do I convert my website traffic into sales?
Well, the answer to that question is: It depends! Every situation is different and there are very striking differences in click thru and conversions rates between industries and where your website shows up on the Search Engine Results Page (SERP). Your results will also depend on whether your website shows up in the organic SEO search results or if they show up in the paid or sponsored SEM PPC results.
As indicated in one of my previous blogs, most search engine users tend to select organic SEO listings over paid SEM listings. Some comments I've seen indicate that the top organic search result might receive as many as 40-50% of the clicks from that top 10 page. I've also learned that 90% of search engines users never go beyond the first page. But that's the topic for a future blog. Some blog feedback comments I've read indicate that click thru rates (CTR) vary from less than 0.5% to around 2% with some websites claiming 3-5% CTR's or higher. So, based on these blog comments you could have to generate 50,000 or more SEO or SEM SERP "Impressions" to get 1,000 visitors to click thru to your website.
Before we can discuss how to convert website traffic into sales, we first need to understand the behavior of website visitors. One of the commonly accepted website traffic theories is that visitors tend to come back up to 7 times before they buy. I've also observed that the higher the price of your product or service the more times the website visitor may return.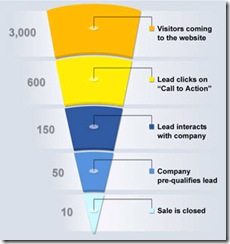 This 7 visit theory is reaffirmed in a recent SiteProNews.com blog post by Jimmie Leonguerrero in Advertising on How to Keep your Website Visitors Coming Back for More. Another blog post written by DJ in Website Conversion on the RiseToTheTop.Techwyse.com blog about a client case study his company recently did regarding Perfecting Your Sales Funnel documents a 5 step visitor online sales process (shown in his graphic) that they had observed.
But whatever the number of steps in the online sales process followed you'll need to have a good web analytics package to be able to measure the website traffic metrics. I have been unable to find any recent hard research data or studies to support this 7 visit theory. But intuitively and from my Internet Marketing client's experience repeat website visits is logical and does make common sense.
Please post a comment on this blog if you know of any published or unpublished independent research studies that supports this 7 visit theory. In Part 2 of this series we'll take a closer look at these 7 website visits. And in Part 3 we'll look at what you can do to engage the website visitor and convert those repeat visits into sales.
Dave Westfall is a Business Coach, Internet Marketing Consultant, Speaker and Trainer with DewPointe Ventures LLC. You can reach him by email at: davewestfall@dewpointe.com. Please check out Dave's profile on www.linkedin.com/in/davewestfall or you can follow Dave on www.twitter.com/davewestfall.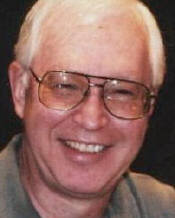 All the best,
Dave Westfall, MBA
For more information and professional guidance, check out the top San Diego SEO agency.