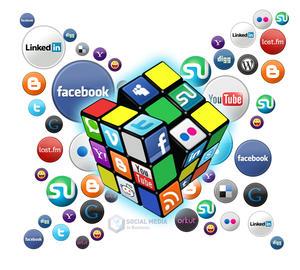 The puzzle of Social Media continues to confuse many of us. This is a market that changes daily. Lots of people are claiming to be experts and gurus of Social Media Marketing SEM. We may want to challenge that notion, because how could anyone really be a full expert in a market that changes this quickly? I believe we are all learning and figuring this out as we go.
That being said, there are models and "better-best" practices that are emerging in this ever-changing field. Many of the Social Media giants, such as Facebook, Twitter and LinkedIn, provide us with more than just connection; they provide us with a way to foster relationships. And Relationship Marketing is where the power is.
At a recent conference in Denver, hosted by the Denver Chamber of Commerce, I felt inspired in the way this conference was being hosted. Not only were the breakout-sessions informative, I found the session leaders were not trying to heavily sell me on anything. They were there to really help businesses with good, solid information. 18 months ago, when I would attend a similar type of conference, I would find on any spare table slews of business cards. Many would approach me and push their business cards in my hands and half-heartedly listen to me when they asked me who I was. Many seemed only interested in wanting to pitch their idea or company or business on me.
There is a different environment out there now. Instead of push marketing, we are seeing a new and refreshing trend of Pull Marketing emerging. Pull Marketing is the art of really connecting and listening to someone and pulling them into a conversation, not focusing what we can get them to do, but what we can learn about them. Why is this important? Because we have so many choices these days. Whenever we want something, we have dozens of choices. We can search and find reviews and comparisons for all the competing companies looking for our business. We can bid for the best deals without ever speaking to any actual person. This has opened up our world to a vast array of choices, but it has also closed the doors to the human touch.
Pull Marketing is the marketing art of good old fashioned relationship building. Taking the time to know your customer, taking the time to understand their unique needs and taking the time to serve them, personally and professionally. Build your brand through building relationships. Pull people into a conversation about them, who they are and what their needs are before you "sell" them on your ideas or business. By listening to your customers and your potential customers, you are able to address their needs uniquely and specifically. That simple shift is what is making the difference in business these days.